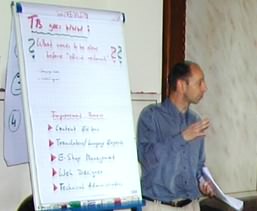 Designing the Intranet
An International Project
---
Designing the Intranet is a joint effort of Burhani brothers and sisters from many countries, coordinated by the International Center for Research and Strategic Studies (intranet@burhaniya.info, House Schnede). Each subsection needs editing the content of the presentation - for all these sections as well as for design and technical support help is needed as
Content Editors presenting/updating relevant and correct information
Translators and proof-readers in different languages
Supporters for E-shop: shop design, order processing, shipping, accounting
Web Designers to continuously improving the " look & feel "
Technical Administrators to support design, to help visitors and to employ latest web technology.
If you are interested to help and to take up one of the positions above, please contact the Research Center (intranet@burhaniya.info). The future of this Intranet is depending on the ideas and the support of the brothers and sisters. Many enhancements are possible: more content (also on the local level), more multimedia, links to other relevant sites, password protected areas, email lists, newsgroups, chatrooms, etc. etc.
---